The Myle Mini Disposable Device is small and durable. Its size is that it is as small as a lighter making it easy to carry around and use. It is basically a portable e-cigarette pod system and an all-in-one disposable device filled with nicotine salts at 5% nicotine  giving the user approximately 320 puffs per pod. The device also doesn't need refilling and charging and all you need to do is just vape. What's great about the Myle Mini Disposable Pods is that they come in ten flavors for you to choose from.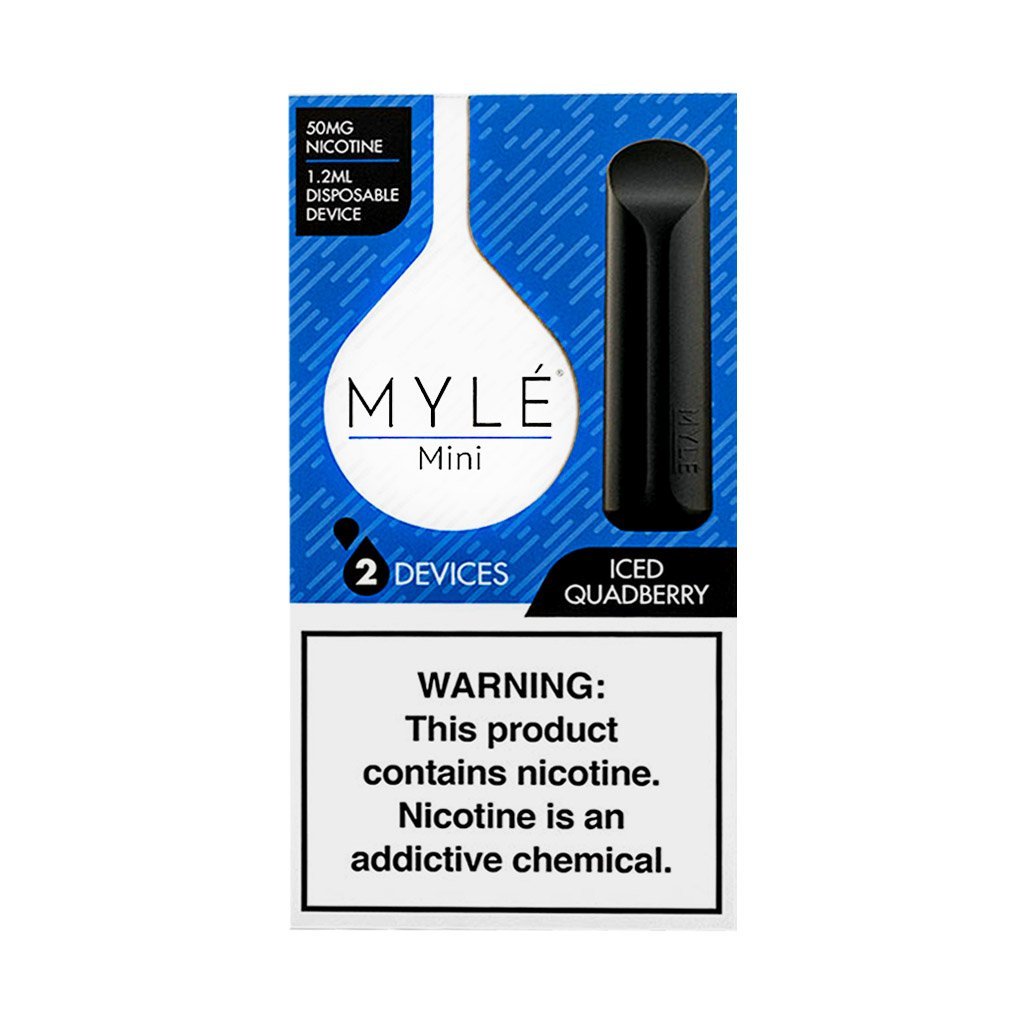 Product Description
The size of the Myle Mini Disposable Pod is (in.): 2.96 H x 0.77 W x 0.42 D and the flavours come in: Iced Watermelon / Iced Apple Mango / Iced Mint / Iced Quad Berry / Sweet Tobacco / Pink Lemonade / Red Apple / Lemon Mint / Peach. The device usually comes in black. Its e-liquid capacity is 1.2ml built-in for the pod and nicotine content approximately 5% or 2% nicotine by volume/unit. The user can usually expect to enjoy around 320 puffs per pod (approx.) The MYLE Mini Disposable Pod Device pack comes with 2pcs 1.2ml (Pre-filled).
Features
The Myle Mini Disposable Pod system features the following specifications:
• Convenient to use because it's an all-in-one system
• Portable and handy because of its small size and is easy to carry
• Easy to use because of its draw activated firing mechanism
• Lasts longer at 1.2ml e-liquid capacity & non-refillable
• Greater satisfaction at 5% or 2% nicotine by volume/unit
• More puffs at up to 320 puffs per device
• More choices as it offers multiple taste options to meet individual needs

The Disposable Vape Versus the Disposable Mini Vape
When it comes to vaping, there are two major types of disposable vape on the market: the stick disposable pods and disposable mini pod vapes. This article focuses on the new and fast becoming popular mini vapes out there on the market today and see which one has the best combination of flavor and performance.
The market for disposable vapes is highly competitive and is filled with a wide selection of potent nicotine salts and other flavors that vapers prefer. One player that pulled out their top flavours from the market was Juul even though vape sales was gaining ground.
There are a lot of alternative brands out there aside from Juul that you can choose from. The disposable vape pod system offers adult vapers today a convenient, flavourful and discrete device. And there is no easier way to vape than disposables. If you are looking for an alternative to your favorite Juul flavor, make sure you check out our comprehensive resource pages:
The Myle Mini Disposable Pods
As mentioned earlier in this article, the Myle Mini is an all-in-one disposable vape system that is easy to carry and use. Its nicotine strength of 5 percent and an e juice capacity of 1.2ml creates for a more satisfying vaping experience. Although estimated at around 320 puffs per mini pod, the number of puffs you can extract from a mini pod depends on how deeply you inhale.
The Myle Mini, despite its small size at less than 3 inches, is built with quality and durability in mind. It also delivers and packs great flavours and tight draw. It is sold in packs of two and is equivalent to two packs of cigarettes. Its black livery is for adult vapers who prefer simple colors over brightly colored ones.